Relax you cares away in our beautifully designed 1,200 sq. ft. building. Complete with massage rooms, Whirlpool tubs, cedar saunas and talented massage therapists. Massages are by appointment only. Handicap accessible.

Rejuvenate
Feeling tired, unappreciated, and wiped-out? We have the remedy for you! Spend a few hours at Mariah Meadows Day Spa and feel years younger. Our Whirlpool tubs are filled with the purest spring water in California and will relax your achy soul. Our talented massage therapists can ease the tension from your overworked muscles. Our steaming hot cedar saunas will cleanse your mind and spirit.
Massage Techniques
Mariah Meadows Day Spa is proud to offer a wide variety of massage techniques. Which one best suits your needs?
Deep Tissue Massage
Focuses on releasing chronic patterns of tension through slow strokes and deep finger pressure on contracted areas.
Jin Shin Do
"The way of the compassionate spirit." Technique uses gentle yet deep finger pressure on specific acu-points.
Zen Shiatsu
Japanese pressure therapy used to relieve back pain, neck and shoulder problems, stress, insomnia, digestive problems and fatigue.
Aromatherapy
A form of alternative medicine that uses essential oils for the purpose of affecting a person's mood or health.
Swedish Massage
This popular technique uses a firm but gentle pressure to improve circulation, ease muscle tension, improve flexibility, and create relaxation.
Foot Reflexology
The application of pressure to the feet using specific thumb and hand techniques.
Sports Massage
Used to prepare athletes for peak performances by reducing fatigue, relieving swelling, reducing muscle tension, promoting muscle flexibility and preventing injury.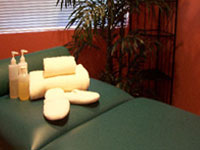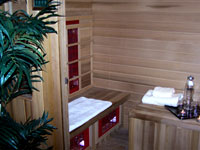 Price
Spa Package - Whirlpool bath, one hour massage, sauna.
$80.00*
Whirlpool Bath only
$1 /min**
Massage only
$65.00
Sauna and Shower only
$25.00
*Prices may vary for specialized massages, call for pricing details

**10 minute minimum
Give us a call, we'll take care of everything! (707) 928-9883